Monetize your
Checkout
with Cleever
Incentivize your shoppers, up to $10 per order
Start earning an additional $5*, guaranteed, on every single one of your orders
Generate a reliable secondary revenue stream, while offering huge savings to your shoppers
All of this, at NO COST TO YOU!
*up to $5 per order, depending on volume of transactions and payment fees
Make a profit for upselling premium services with engaging incentives to your shoppers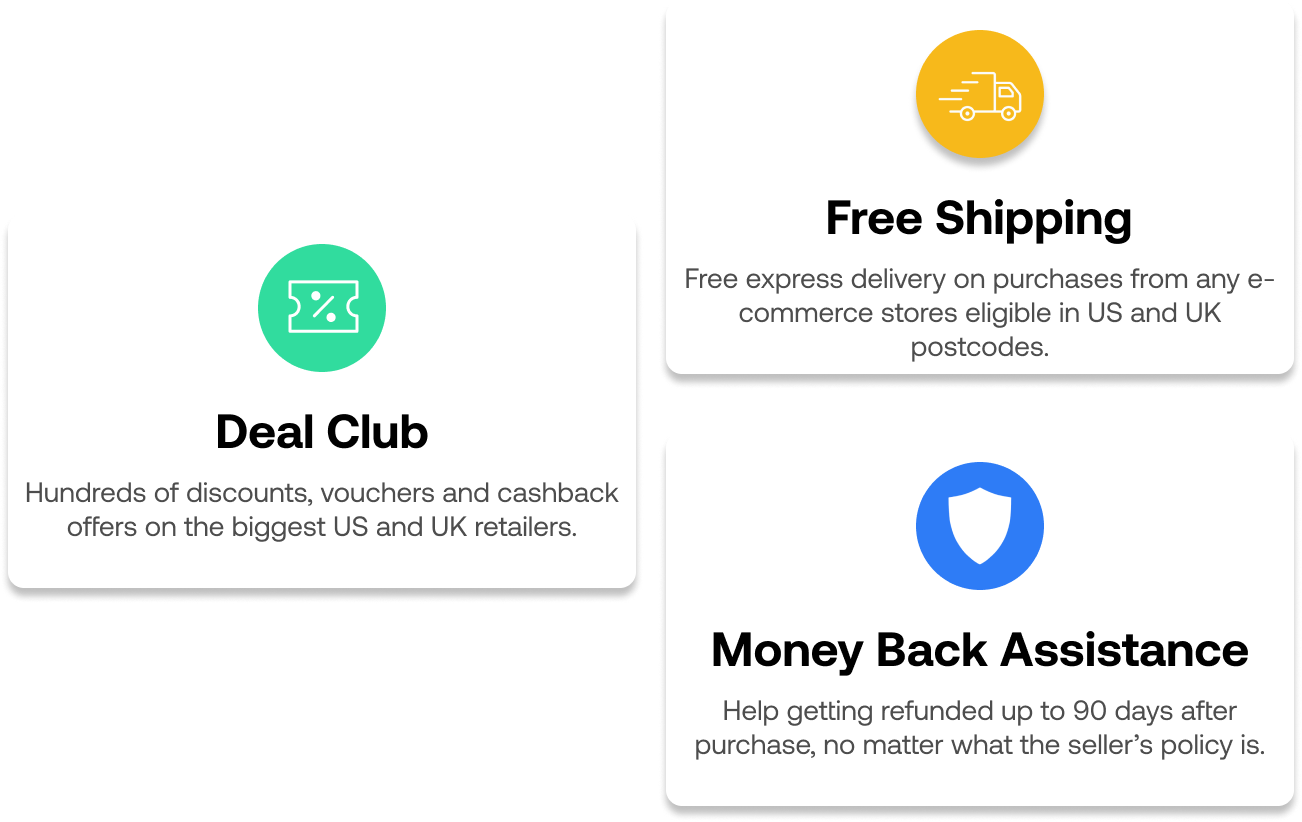 Enable or disable services of your choice​
Free shipping, discount clubs and guarantees… Engage with your shoppers through high quality services that matter to them and that are tailored to their specific needs. The more services you offer, the more you get paid.
Offer incentives to your shoppers at no cost
Free shipping, $5 discount… to incentivize shoppers to complete their purchase at critical points of the shopping funnel and boost conversion. All incentives combined can decrease the price payed by your shopper by up to
$10 per order!
Keep full control of your checkout experience
Keep control of your brand
 The premium services are seamlessly embedded to match your branding: your font, your colours & design.
Keep control of your user experience
We combine your order and the chosen services into 1 payment. Your shoppers add their desired offers in a single click without leaving your website. The offers are integrated to your already existing checkout steps: shipping method, cart, payment options… 
No disturbance to your funnel
No added steps
No sign-up
No banners
No pop-ups
No external links
No redirection
1. Choose the services you want to display
Choose which premium services to display seamlessly at checkout, tailored to your shopper needs and brand style.
2. Offer your shoppers financial incentives
Each premium service comes with financial incentives for the shopper which are immediately applied to their order and at no cost to you. 
3. Get paid up to $5 on each transaction
We'll pay you commission for each service you display, on every transaction. Generate up to $5 additional profit per transaction while driving consistent value for clients 
How does Cleever double your profit margins?
Save –
100% free checkout solution
$0 set-up fee, $0 per transaction and 0% on volume.
Save up to $1 on each transaction.
Earn –
Get paid on each transaction
The more services you display, the more you get paid, whether the shopper adds the services at checkout or not. 
Incentivise –

At no cost to you
Give up to $10 to your customers on every order. This guarantees a lower cart abandonment rate and a higher conversion rate.
We always love hearing from our merchants, and we actively encourage you to share your thoughts with us at every opportunity.
Technology to capture the maximum value on each transaction
Cleever has partnered with Stripe to process payments, the leading payment gateway for e-commerce
Using cutting edge technology to ensure encryption of sensitive data and communication
Certified to PCI Service Provider Level 1. Best-in-class security tools to maintain a high level of security through Stripe

Cleever is available through the leading e-commerce platforms, and can be integrated directly into your site in a few clicks. No coding required.
Our simple and seamless integration means that Cleever will automatically update, so you'll always have the latest version of our payment solution to offer your customers.
Contact us for other CMS.